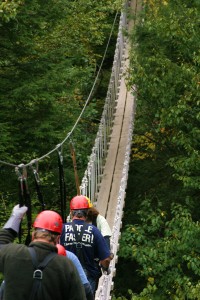 In addition to a variety of exciting outdoor adventures, West Virginia also boasts a rich cultural history and the local flavor to match. We invite all guests to come and experience everything West Virginia has to offer! Some of these features include white water rafting, state & national parks, vineyards, horseback riding, hiking; and so much more! If you are looking for a full weekend getaway with a true range of activities, then don't hesitate to contact us to help book your West Virginia adventure.
There are many activities available onsite at Ridge's Zipline. We also feature a variety of lodging options – ranging from rustic to luxurious; so there is sure to be something for everyone! If you find yourself getting hungry, we can fix that too, with several onsite dining options (though we do also recommend a trip into Oak Hill!).
Onsite Amenities & Activities:
White Water Rafting
Hiking
Fishing
Volleyball
Red Dog River Saloon
Fire Creek Lodge & Conference Center
Scenic Float Trips
Rock Climbing
Paintball
Local Adventures:
Horseback Riding
Bridge Walks (link to page)
ATV Tours
State & National Parks
Shopping & Dining by local artisans
Onsite Lodging:
Campgrounds
RV Hookups
Tents on Platforms
Bunkhouses
Safari Tents
Rustic Cabins
Leisure Cabins
Luxury Cabins
Want to learn more? Give us a call at 1-800-EGO-RAFT (1-800-346-7238) – we are happy to help you book all aspects of your West Virginia vacation!