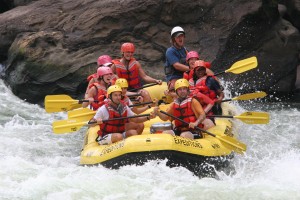 New River Rafting in West Virginia
The New River meanders north through North Carolina, Virginia, and finally to West Virginia offering a wide variety of white water rafting experiences from a gentle summer float trip to a heart-pounding Class V rafting adventure. The New River is considered to be the world's second oldest river.
New River Gorge Express

| Min Age | Weekday | Sunday | Saturday |
| --- | --- | --- | --- |
| 12 | $90 | $100 | $100 |
On the New River Gorge Express you'll encounter your first rapid almost immediately after you put in near the old town of Cunard. For the next two to three hours you'll thrill to the excitement on the major rapids of the New River. Navigate the "Keeneys"(a thirty-two foot drop in a quarter of a mile), challenge "Double Z", or ride "Greyhound" — these are just a few of the rapids that will get your heart pounding.The rapids are mixed with calm stretches which give you a chance to enjoy the breathtaking scenery.
Upper New River Family Full Day Trip

| Min Age | Weekday | Sunday | Saturday |
| --- | --- | --- | --- |
| 6 | $100 | $100 | $130 |
Upper New River Family Full Day Trip: Ideal for children and the young at heart, age six and up, the New River Family Full Day Rafting Trip is a leisurely paddle along one of the most scenic rivers in the East. Big pools and gentle rapids carve a pathway through the Appalachians of West Virginia and provide plenty of chances to swim, make new friends, spot wildlife, take pictures and just relax. Lunch is included on this full day expedition, as well as complimentary beverages following the trip. Best of all, kids raft for 1/2 price on the Upper New River Full – Day Trip!
Contact our Adventure Specialists at 1-800-EGO-RAFT (1-800-346-7238)