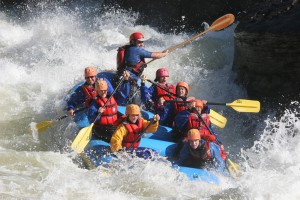 The Gauley River's backdrop is a remote canyon with towering sandstone cliffs and steep slopes of brilliant fall foliage. This beautiful river is ranked among the Top Ten in the world. On selected dates in September and October, an immense volume of water is released from the Summersville Dam to create World Class whitewater on the Upper section and exciting Adventure class rapids on the Lower section.
Half Day Express Gauley River
This twelve-mile watery roller coaster is a perfect fall rafting trip for first-time rafters. It's tamer than the Upper section of the Gauley River, plus there's plenty of rafting excitement as you encounter big waves and stunning scenery. You'll have time to swim in between rapids or plunge into the water from "jump rock".
Similar in character to the Upper Gauley River but not quite as intense or technical, this section has huge waves to get your heart pounding. This Adventure Class run is a favorite of veteran rafters and perfect for adventurous beginners. A great warm up for the Upper Section of the Gauley River
| Min Age | Friday-Monday | Sunday | Saturday |
| --- | --- | --- | --- |
| 12 | $115 | $115 | $115 |
Contact our Adventure Specialists at 1-800-EGO-RAFT (1-800-346-7238)
Upper Gauley River
The Upper Gauley River's World Class whitewater attracts paddlers from all over the country. Tough and technical, this section of river has it all — powerful water, steep drops, colossal waves and turbulent chutes. Due to the intense nature of this trip, previous white water rafting experience is highly recommended. The Upper Gauley River insists upon physical and mental stamina and beckons only serious whitewater enthusiasts. This full day trip includes continental breakfast, hot grilled lunch at our exclusive Sweets Falls access and complimentary beverages after rafting.
Demanding rapids which require precise maneuvering and test your teamwork characterize this high impact trip. Here the river is narrow and fast paced with spectacular and dramatic scenery to highlight this fabulous fall trip. Trips start to fill up early for the fall Upper Gauley so reserve your spot now! We accept reservations year round for this world class white water rafting USA adventure.
| Min Age | Friday-Monday | Sunday | Saturday |
| --- | --- | --- | --- |
| 12 | $130 | $150 | $180 |
Contact our Adventure Specialists at 1-800-EGO-RAFT (1-800-346-7238)
Lower Gauley River
The fall Lower Gauley is considered a moderate adventure and combines exhilarating rapids with magnificent scenery from start to finish. This high adventure trip feels like a watery roller coaster ride – a favorite among intermediate paddlers. It is set in a pristine wilderness which allows you to marvel at the rugged canyon walls and grandeur between rapids. Indulge your passion for adventure. The Lower Gauley is the perfect prelude to the intense Upper Gauley.
This trip includes 9 miles of Class V whiewater through some of the most beautiful river scenery, including two sheer 150 foot tall rocks and huge boulders in what we call "land of the Giants". A delicious deli lunch is served on the river banks during this trip.
Raft trips on the Gauley River in West Virginia are a great idea for a group trip. We welcome all kinds of groups from Girl and Boy Scout Troops, to Church and Work groups. It's a great way to bond together and experience adventure in a fun, outdoor setting. If you plan on staying overnight, the accommodations at the River Expeditions Adventure Resort range from Luxury Cabins, with air conditioning and a hot tub, to camping in your own tent on one of several different camp grounds, each with it's own personality.
| Min Age | Friday-Monday | Sunday | Saturday |
| --- | --- | --- | --- |
| 12 | $115 | $125 | $160 |
Contact our Adventure Specialists at 1-800-EGO-RAFT (1-800-346-7238)